In the Community
Transcor Recycling is committed to supporting and giving back to our local community. Our goal is to target 1 group or organizations each quarter, or annually, and focus our collective efforts on that group or organization with the help of our customers, clients and connections in the community.
---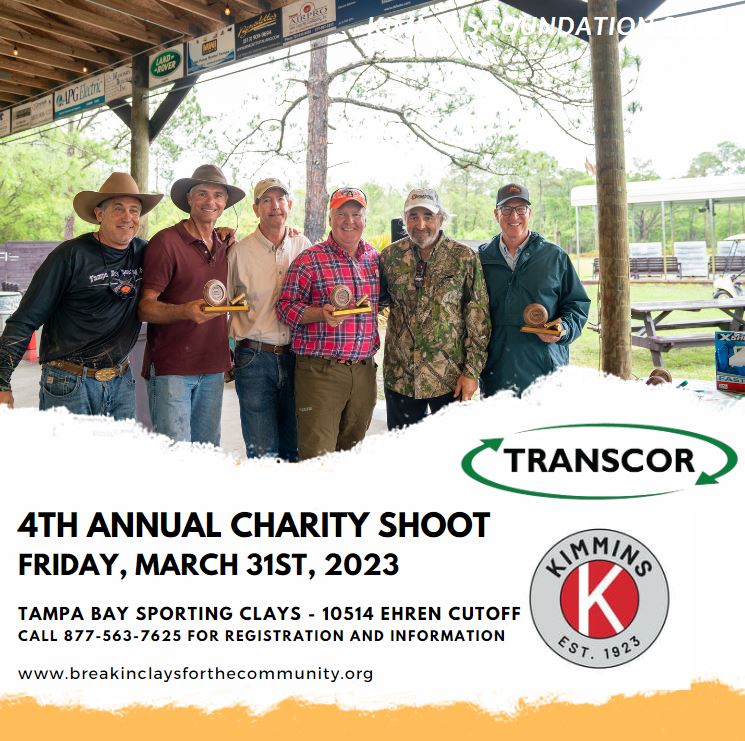 MARK YOUR CALENDAR!
March 31st, 2023
The Kimmins Foundation and Transcor Recycling are gearing up for our 4th Annual "Breakin' Clays for the Community" charity clay shoot, at Tampa Bay Sporting Clays off Ehren Cutoff Road.
In 2022, we collaborated with organizations that work with children in the foster care system, art for children with disabilities, and supporting our veterans. These organizations include Royal Family Kids Camp, A Door of Hope, Valor Service Dogs, and Creative Clay.
Not a shooter? There are many ways you can help sponsor other areas of need. Click here to see where you can help us meet one of the many needs of hosting a charity event.
---
PAST COMMUNITY ENDEVORS BELOW
---
Florida is 3rd highest in the nation for sex trafficking across the United States. Tampa Bay is one of the larger problem areas in the state. An estimated 21 million children, women, and men are caught in the cycle of trafficking worldwide, with 80% of trafficking victims being female, while up to 50% are children. Bridging Freedom
1st Quarter 2020 – Transcor Recycling, and our industry partners, will do our part to help eliminate this horrific modern slavery. On Thursday February 20th, we will host a charity clay shoot at Tampa Bay Sporting Clays in Land O' Lakes. All proceeds will go to  .  EVENT INFO 
---
4th Qtr. 2019 – SHRINERS HOSPITAL FOR CHILDREN
Shriners Hospitals for Children has an amazing mission: To provide the highest quality care to children with neuromusculoskeletal conditions, burn injuries and other special healthcare needs within a compassionate, family-centered and collaborative care environment. Shriners Hospitals for Children is a network of 22 non-profit medical facilities across North America. Children with Orthopedic conditions, burns, spinal cord injuries, and cleft lip and palate are eligible for care and receive all services in a family-centered environment, regardless of the patients' ability to pay. YOU CAN HELP! 
Transcor Recycling is raffling a pair of suite level tickets and parking pass for the Chicago Blackhawks vs. Tampa Bay Lightning at Amelia Arena on February 27. 2020. Shriners Hospital for Children will receive 100% of all proceeds for this giveaway. Shriners custom wheelchairs help children become more mobile, and that is our goal. Each entry is $100.00 (a $1000 value). All entries are due by January 31st 2020. For questions, email Craig Silvera  or call 813-695-7981. 
---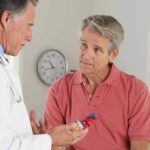 3rd Qtr. 2019 – MEN'S HEALTH 
In the work place there are grandfathers, fathers, husbands, brothers, sons, nephews, and friends, to name a few.  Men's health is important to all of the people associated with the above relationships.  Grandchildren, children, wives, parents, and friends all want these significant people in their lives to be around as long as possible.  Getting regular medical attention, being aware of your body and more importantly – any changes in your body – eating well, and exercising are just a few ways to care for your body and the family members in your life.  Transcor Recycling wants to support men's wellness through our community outreach for 3rd quarter.  The men who work for us, and who are in our lives, are very valuable. So, we want to keep these treasures healthy.
---
2nd Qtr. 2019 – VALOR SERVICE DOGS
Valor Service Dogs is a 501(c)(3) tax-exempt nonprofit organization that helps post-9/11 wounded veterans regain their independence, return to civilian life, and maintain successful partnerships through the training and placing of mobility assistance and PTSD service dogs. Additionally, we bring awareness and education to the general public on service dogs and the laws that allow service dogs to be active members of society.
This is an expensive undertaking. Each service dog will be placed with a Puppy Coach for two years of training. From start to finish, each service dog in training will cost approximately $18,000. This includes the cost of the puppy, food and treats, vet expenses, training supplies and cost of training. All donations go towards the raising and training of these service dogs, with a small portion set aside for promotional and educational activities to spread the word.
---

1st Qtr. 2019 – LIGHTHOUSE MINISTRIES 
Lighthouse ministries provides a wide range of services to Men & Women in need. Called the Gospel Rescue Mission, Lighthouse Ministries provides overnight shelter for homeless Men and Women as overnight guests. While there, guests are provided with a hot meal, shower, fresh change of clothes, a clean bed, evening chapel service, as well as counseling and spiritual guidance. In addition, Lighthouse Ministries hosts a residential program for families. The comprehensive, values based approach provides direction, encouragement, and accountability for residents as they live their lives under the leadership of Jesus Christ seeking to recover from their addictions, destructive lifestyles, and homelessness.
Transcor Recycling was able to donate over $2000.00 in cash donations, drop shipped and walk in items.
---
Wish List Operation Santa 2022
---