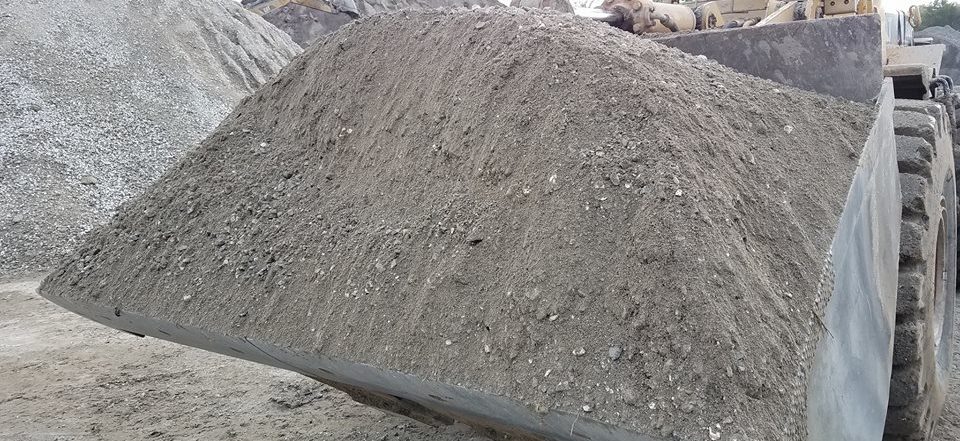 Crushed Aggregate Recycling
We currently have the following aggregate recycled products: FDOT Certified road base, non-FDOT road base, riprap made to requested specifications, #57 crushed concrete, and concrete fines. We also carry crushed asphalt, asphalt millings and asphalt screenings.
Concrete Recycling – Transcor can be contracted to come out to your site to remove various types of concrete materials including roads, interstate pavement, airport runway, pavement, building demolition material, and plant rebuilds or shutdowns.  Transcor recycles over 150,000 tons of concrete material annually, which, in turn, is made into many products, primarily a DOT certified road base and riprap.  The road base can be used for top base and stabilizing sub base for roadways and foundations.  In order for road base to perform as intended, it must meet certain physical requirements such as proper gradation and the durability to resist the effects of weathering.  Transcor processes this material into high quality aggregate base materials, conserving our natural resources while reducing waste sent to landfills.
FDOT Concrete Road Base – Transcor is the first company in the State of Florida to have CERTIFIED FDOT Road Base, Source ID #10-679.  Under FDOT the material code is B-12 and the FDOT specs can be found here.
Concrete Road Base – The non-DOT specifications is not as stringent and may include a small percentage of asphalt, brick, porcelain, granite, limerock, and dirt.  FDOT specs can be found here. Material will exceed LBR requirements.
Concrete Rip Rap – This product can be seen along shoreline, around ditch pipe and in landscaping.  Transcor sizes rip rap to the customer's needs.  On average, material is usually 10" to 18", free of wire.
Crushed Asphalt – This material starts out as slabs of asphalt.  When roadways or parking lots are demolished using machinery, then a chunked product is created.  The material is then crushed down to a 1 ½" minus product.  It is very important to note that when asphalt is crushed, it is broken down into its natural format.  As you look at the end product, you will see sand, rock, asphalt, and dirt.  When material is compacted in place, it will not harden in comparison to millings.
Asphalt Millings – The term "millings" comes from the machine in which it is produced.  A milling machine is used to pull up pavement in long runs compared to small segments achieved with a loader.  The milling machine will take the material from the pavement directly into a dump truck for removal from the site.  A milled product is larger than a crushed product, with the average size being 3 ½" to 4".  When properly placed, it will harden in place for a beautiful, recycled surface.